Learning from Judgment and Experience
Wednesday November 28, 2012 comments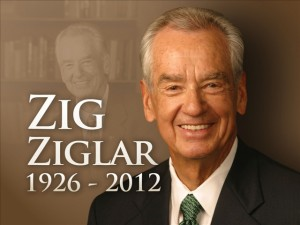 "Good judgment comes from experience, and a lotta that comes from bad judgment."
Cowboy philosophy
Motivational speaker, inspirational example and friend Zig Ziglar passed away this morning at 86 years. Knowing Zig and joining so many others who were encouraged and inspired by his teachings is one of the many blessings in my life. I have such fond memories of his attendance at a five-day sales training I did years ago. His was truly a life well-lived. I will miss his smile, his Southern charm, his humor and the example he set for living an extraordinary life.
I had chosen the quote above before learning of Zig's passing; thought of changing it; and then it occured to me that this kind of "old west wisdom" is perfectly consistent with how Zig communicated: useful thought expressed with a smile and a wink. Putting "bad judgment" in a positive, growth-oriented frame is something I can almost hear Zig talking … and laughing … about today.
Zig Ziglar will always be a positive role model for me. How about you? Who do you look to as a model for successful being, living, contributing?